Aisko - Dwie dekady na wymagającym rynku!
01 Mar2019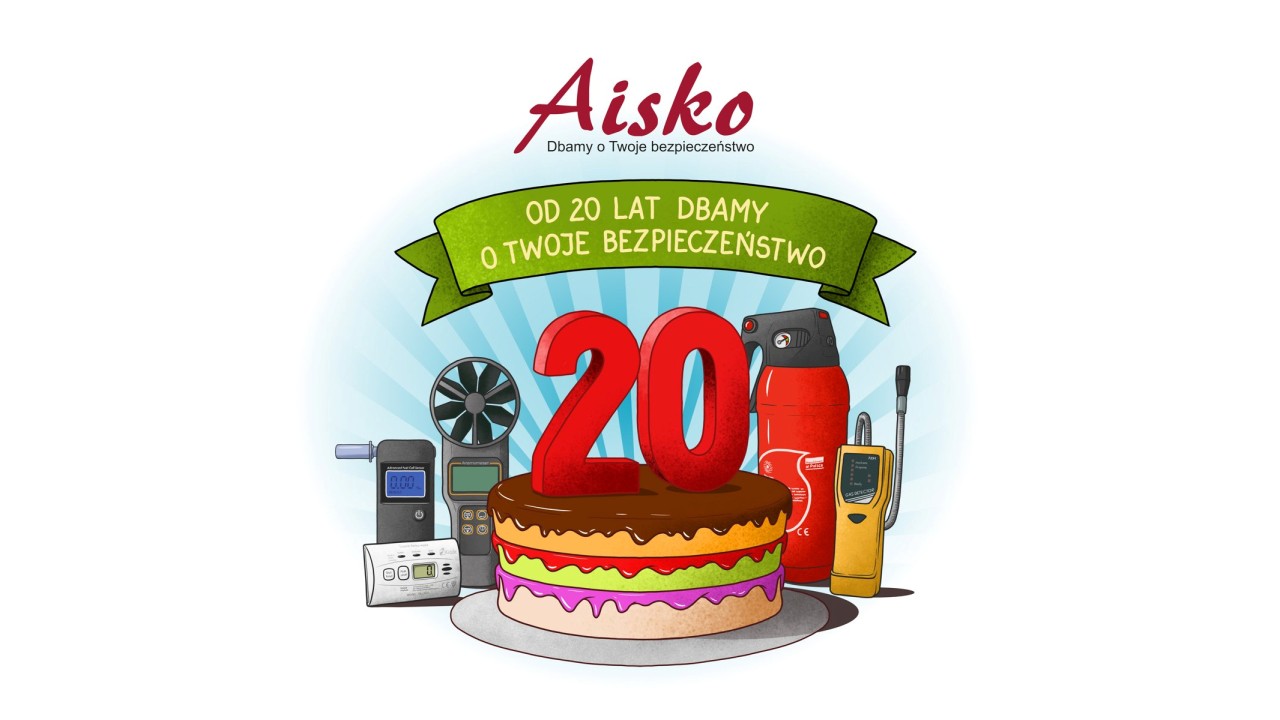 Zanim się obejrzeliśmy stuknęło nam równo 20 lat! To znakomita okazja nie tylko do świętowania urodzin Aisko, ale też do wspomnień, podsumowań i podziękowań.
Wszystko zaczęło się w marcu 1999 roku.
Na początku nieśmiało próbowaliśmy łączyć naszą wiedzę i pasję z biznesem, powoli rozpoznając rynek. Byliśmy przekonani, że mamy wiele do zaoferowania w nowoczesnym pojmowaniu tematów bezpieczeństwa i że jest w tym zakresie wiele do zrobienia. Z biegiem czasu nasze doświadczenie rosło, a asortyment oferowanych towarów stale się powiększał.
Od samego początku wprowadzając nowe urządzenia do oferty, kierujemy się jasną zasadą - zawsze na pierwszym miejscu stawiamy na jakość oferowanych produktów.
Rozpoczęcie współpracy z zaufanymi producentami jak np.: Kidde, Drager, ACS, C4 Development LTD, AZ Instrument Corp., stanowiło zatem logiczny ciąg zdarzeń. Od kilku lat z sukcesami budujemy własną markę alkomatów BACscan® - zaawansowanych technologicznie analizatorów wydechu przeznaczonych do użytku indywidualnego oraz zastosowań profesjonalnych.
Inną, ważną gałąź naszej firmy stanowią domowe zabezpieczenia przeciwpożarowe. Ze względu na fakt, że są to produkty przeznaczone do ochrony życia i mienia użytkowników, zdecydowaliśmy się nawiązać współpracę z firmą Kidde - światowym liderem w tej dziedzinie. Obecnie nasza firma jest wyłącznym dystrybutorem Kidde w Polsce.
Dla nas troska o poprawę bezpieczeństwa, to coś więcej niż tylko biznes - to również pasja.
Przez te wszystkie lata wspólnie z Państwową i Ochotniczą Strażą Pożarną, Krajową Izbą Kominiarzy, fundacją Ogień Zabija oraz jednostkami samorządowymi, prowadzaliśmy liczne akcje edukacyjne, których celem jest podniesienie poziomu wiedzy na temat zagrożeń związanych z pożarem i emisją tlenku węgla oraz promowanie wyposażania mieszkań i domów w czujniki ostrzegające przed tymi zagrożeniami. Nawiązaliśmy współpracę z mistrzem olimpijskim z Soczi, panczenistą Zbigniewem Bródką, który zasłużenie zyskał miano "najszybszego strażaka świata". Wspólnie dzielimy pasję walki o ludzkie zdrowie, życie i bezpieczeństwo.
20 lat pracy, w tak wymagającej branży, dało nam mnóstwo doświadczeń i wiedzy o rynku. Liczne wyróżnienia i nagrody, które otrzymujemy są dowodem na to, że kroczymy dobrą drogą. Ale i tak najważniejsze jest dla nas zaufanie i zadowolenie naszych klientów.
Dziękujemy Wam drodzy klienci, dziękujemy Wam nasi partnerzy. To gdzie dzisiaj jesteśmy, to nasze wspólne dzieło.