Carbon monoxide - basic information
Tlenek węgla - podstawowe informacje
Tlenek węgla. Co to jest?
Tlenek węgla (popularnie nazywany czadem) jest bezwonnym, bezbarwnym, nie mającym smaku, silnie trującym gazem o zbliżonej gęstości od powietrza co powoduje, że łatwo się z nim miesza i rozprzestrzenia. Jest bardzo niebezpieczny ze względu na silne i skryte działanie toksyczne.
Zatrucia tlenkiem węgla - statystyka
Tlenek węgla w statystykach zatruć zajmuje trzecie miejsce po zatruciach lekami i etanolem.
Natomiast wśród zatruć substancjami wnikającymi do organizmu drogą inhalacyjną pojawia się na pierwszym miejscu.
Co roku w Polsce straż pożarna odnotowuje
kilka tysięcy
zdarzeń związanych z tlenkiem węgla, w wyniku których ponad 2500 osób wymaga hospitalizacji, a ok. 70 umiera wskutek następstw wynikających z zatrucia tlenkiem węgla.
W jaki sposób dostaje się do organizmu?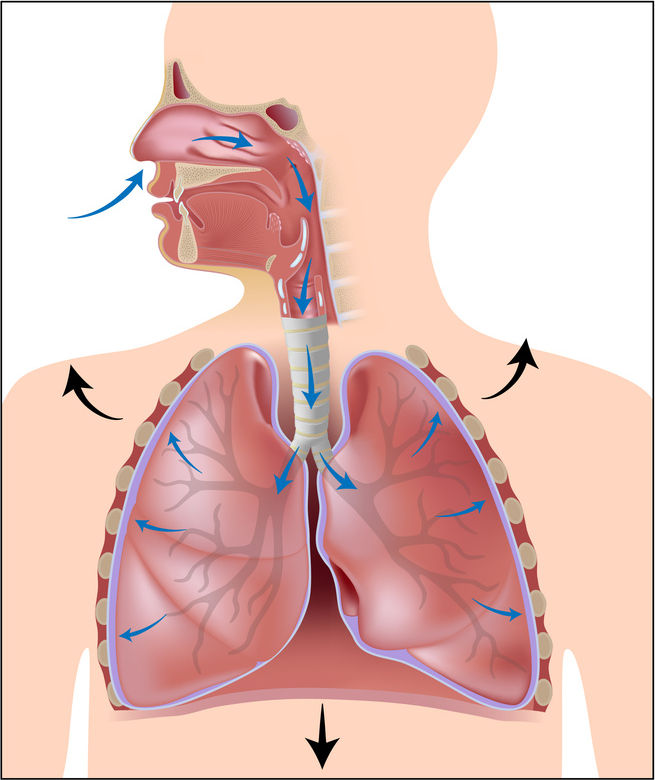 Do organizmu dostaje się drogą inhalacyjną (przez drogi oddechowe). Wiąże się z hemoglobiną w związek zwany karboksyhemoglobiną (HbCO), który jest
niezdolny do przenoszenia tlenu
.
W wyniku zaburzenia dystrybucji tlenu komórki naszego ciała i cały organizm są mocno niedotlenione.
Stwarza to poważne zagrożenie dla zdrowia i życia człowieka.
Najpoważniejsze uszkodzenia spowodowane niedotlenieniem powstają w ośrodkowym układzie nerwowym.
Zdolność wiązania się tlenku węgla z hemoglobiną jest około 200 -250 (w zależności od źródeł) razy większa niż z samym tlenem.
Dlatego już niska koncentracja tlenku węgla w powietrzu może stanowić istotne
zagrożenie dla zdrowia i życia.
Jak powstaje?
W warunkach domowych tlenek węgla powstaje w wyniku niepełnego spalania, takich paliw jak: gaz, olej, benzyna, nafta, propan, butan, drewno, węgiel, olej napędowy, spowodowanego brakiem odpowiedniej ilości tlenu.
Może to wynikać z braku dopływu świeżego (zewnętrznego) powietrza do urządzenia, w którym następuje spalanie albo z powodu zanieczyszczenia, zużycia lub złej regulacji palnika gazowego, przedwczesnego zamknięcia paleniska pieca lub kuchni.
Źródła tlenku węgla
Najczęstszymi źródłami tlenku węgla w domach są nieprawidłowo zamontowane, rozregulowane lub niewłaściwie użytkowane:
gazowe urządzenia do podgrzewania wody
przenośne gazowe / naftowe ogrzewacze pomieszczeń
biokominki, kominki na gaz lub drewno
piece kaflowe, kuchnie gazowe / węglowe
grille na gaz i węgiel użytkowane w zamkniętym pomieszczeniu
agregaty prądotwórcze eksploatowane w zamkniętych pomieszczeniach np. w garażu, a także w pobliżu otwartych okien lub drzwi
zablokowane lub nieszczelne przewody kominowe
samochód pozostawiony z uruchomionym silnikiem w przydomowym garażu
Kto jest narażony na działanie tlenku węgla?
Wszystkie osoby, bez wyjątku, przebywające w środowisku skażonym tlenkiem węgla są narażone na jego wpływ. Skutki działania CO, przy takim samym stężeniu, mogą być jednak różne dla różnych osób.
Do grupy największego ryzyka należą:
noworodki i niemowlaki (obok normalnej hemoglobiny występuje u nich hemoglobina płodowa, która wiąże dwukrotnie więcej tlenku węgla niż zwykła hemoglobina).
dzieci (ze względu na większą częstość oddechów w porównaniu z osobami dorosłymi, a także szybszy metabolizm).
kobiety ciężarne - niewielkie stężenie tlenku węgla, które dostało się do organizmu kobiety ciężarnej, może doprowadzić do powikłań ciążowych, uszkodzenia a nawet śmierci płodu
osoby w podeszłym wieku
osoby z wadami serca oraz niewydolnością układu oddechowego
osoby wykonującą pracę związaną z dużym wysiłkiem fizycznym. Ze względu na zwiększoną częstość i głębokość oddechu pochłaniają one znacznie szybciej, niż podczas odpoczynku, trujące dawki tlenku węgla.
Jakie są objawy zatrucia tlenkiem węgla?
We wczesnym okresie występuje osłabienie, niepokój, tętniący ból i zawroty głowy.
W miarę upływu czasu pojawia się senność, apatyczność, utrata świadomości, zaburzenia oddychania i orientacji, przyspieszenie czynności serca, zaburzenia rytmu serca, uszkodzenie mięśnia sercowego, a w późniejszym okresie zatrucia mogą uwidocznić się objawy uszkodzenia różnych struktur ośrodkowego układu nerwowego w postaci porażeń, niedowładów, a także upośledzenia intelektualnego.
Następstwem ostrego zatrucia może być nieodwracalne uszkodzenie ośrodkowego układu nerwowego, niewydolność wieńcowa, zawał albo nawet śmierć.
Zaburzenia orientacji i zdolności oceny zagrożenia powodują, że osoba zaczadzona jest całkowicie bierna (nie ucieka z miejsca zagrożenia), traci przytomność i umiera jeżeli nikt jej nie przyjdzie w porę z pomocą.
Jeżeli odczuwasz jakiekolwiek symptomy mogące świadczyć nawet o lekkim zatruciu tlenkiem węgla, skontaktuj się niezwłocznie ze swoim lekarzem.
Pamiętaj!
Objawy zatrucia najwcześniej mogą wystąpić u dzieci oraz zwierząt domowych.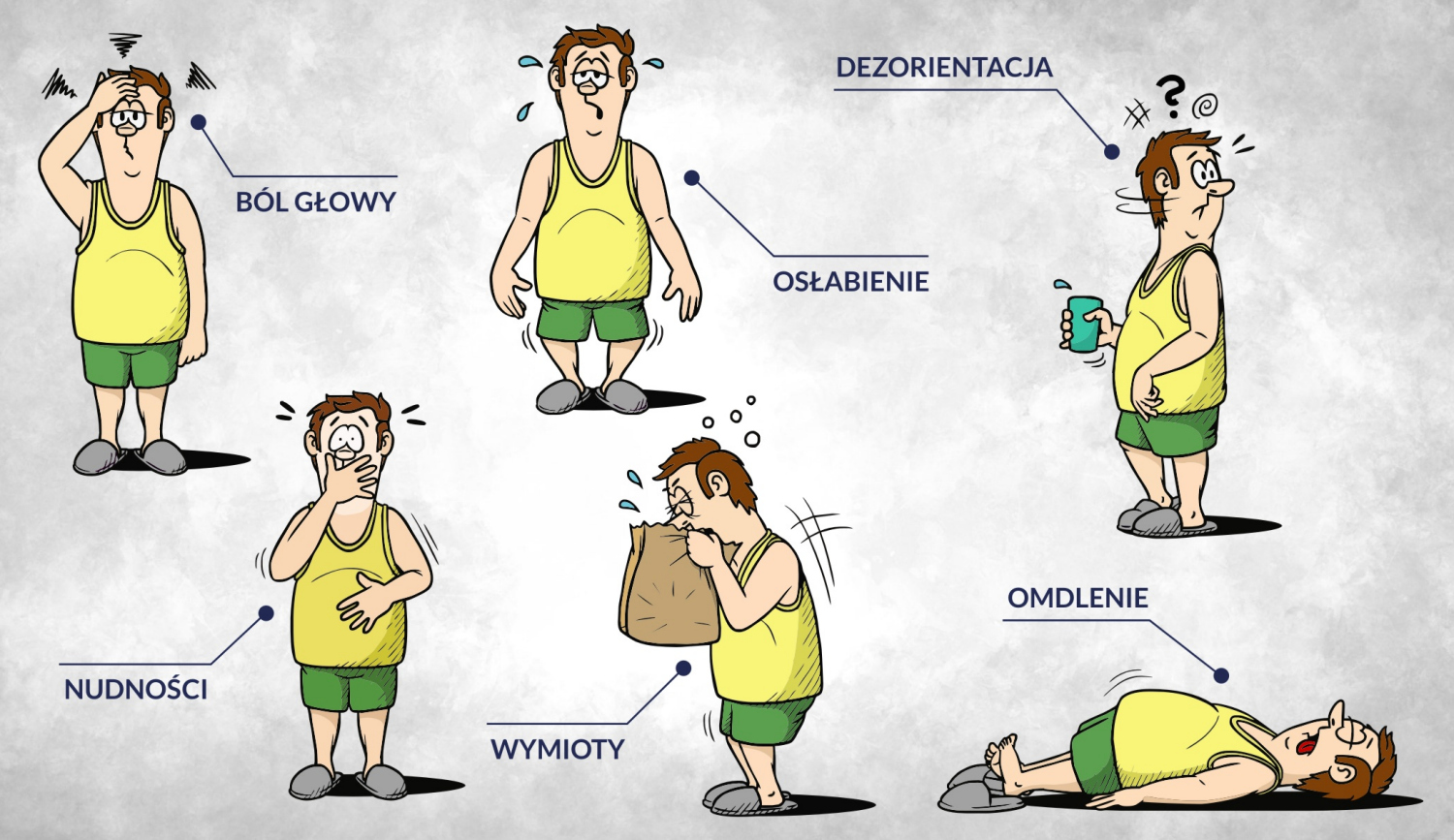 Dlaczego czad jest tak groźny?
Zatrucie tlenkiem węgla w początkowej fazie jest bardzo podobne do objawów grypy (ale bez gorączki) lub infekcji przewodu pokarmowego, co często prowadzi do mylnej diagnozy i niewłaściwego sposobu leczenia.
Przebywanie przez dłuższy czas w pomieszczeniach nawet o niskim stężeniu tlenku węgla może doprowadzić do nieodwracalnych zmian w organizmie. Przy dużej koncentracji CO, śmiertelne zatrucie może nastąpić nawet w ciągu kilku minut.
Dlatego tak ważna jest prawidłowa ochrona przed czadem.
Tlenek węgla jest trucizną kumulującą się w organizmie!
Przebywanie przez krótki czas w pomieszczeniach o wysokim stężeniu CO jak i zarówno przez dłuższy czas w pomieszczeniach o niskim stężeniu CO, może wywołać nieodwracalne zmiany w organizmie.
Objawy zatrucia tlenkiem węgla w zależności od stężenia i czasu ekspozycji (tzn. pozostawania pod jego wpływem)
STĘŻENIE CO W POWIETRZU
CZAS EKSPOZYCJI
OBJAWY ZATRUCIA
PPM
%
min
35
0,0035
360 - 480
lekki ból głowy, zawroty głowy.
100
0,01
120 - 180
lekki ból głowy, zawroty głowy.
200
0,02
120 - 180
lekki ból głowy, zmęczenie, nudności, zawroty głowy.
400
0,04
60 - 120
silny ból głowy, tętnienie w skroniach, zawroty głowy; zagrożenie utraty życia po upływie 3 godzin.
800
0,08
45
silne nudności, zawroty głowy, wymioty, tętnienie w skroniach; trwała śpiączka po 2 godz.; zgon po 120-180 minut.
1600
0,16
20
intensywny ból i zawroty głowy, nudności i wymioty, zaburzenia orientacji, wrażenie ciemności, trwała śpiączka w ciągu 10-20 minut; zgon po 120 minutach.
3200
0,32
5 - 10
objawy j.w., zaburzenia czynności serca, przyśpieszenie tętna i oddychania; zgon w ciągu 25-30 minut.
6400
0,64
1 - 2
objawy jw., śpiączka przerywana drgawkami; zgon w ciągu 10-15 minut.
> 12800
1,28
< 1
utrata przytomności po 2-3 wdechach; zgon po 3 minutach.
Uwaga! Powyższe dane dotyczą zdrowych, dorosłych osób. Efekty działania tlenku węgla, przy takim samym stężeniu, mogą wystąpić wcześniej u osób chorych oraz zaliczanych do grupy największego ryzyka (noworodków i niemowlaków, dzieci, kobiet ciężarnych, ludzi w podeszłym wieku oraz osób wykonującą pracę związaną z dużym wysiłkiem fizycznym).
Czy wiesz że?
Owady mogą oddychać powietrzem, w którym stężenie czadu dochodzi nawet do 80 %. Wynika to z faktu, że krew owadów (za wyjątkiem larw ochotkowatych) nie zawiera hemoglobiny.