Czujki dymu - zasady montażu
Czujki dymu - zasady montażu
Zasady montażu czujek dymu
W pomieszczeniach mieszkalnych mogą być montowane wyłącznie certyfikowane czujki dymu spełniające normę PN-EN 14604:2006P. Czujka powinna zostać zamontowana przez kompetentną osobę.
Przed instalacją czujki dymu należy koniecznie zapoznać się z dołączoną do niej instrukcją obsługi. Znajdziemy w niej wszelkie istotne informacje m.in.: zasady montażu, obsługi i testowania, wymiany baterii, maksymalny okres użytkowania czujki itp.
Zasady rozmieszczenia czujek
MIESZKANIA JEDNOKONDYGNACYJNE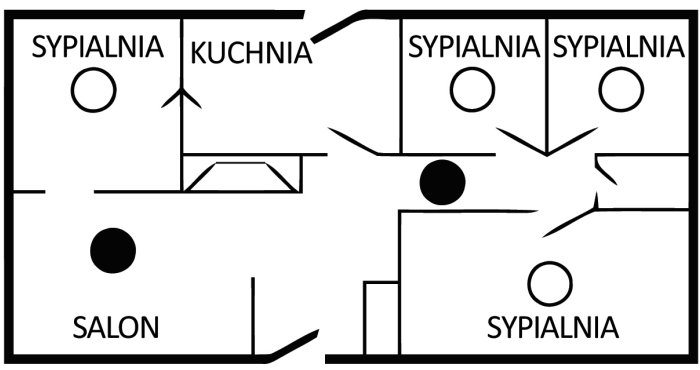 DOM JEDNORODZINNY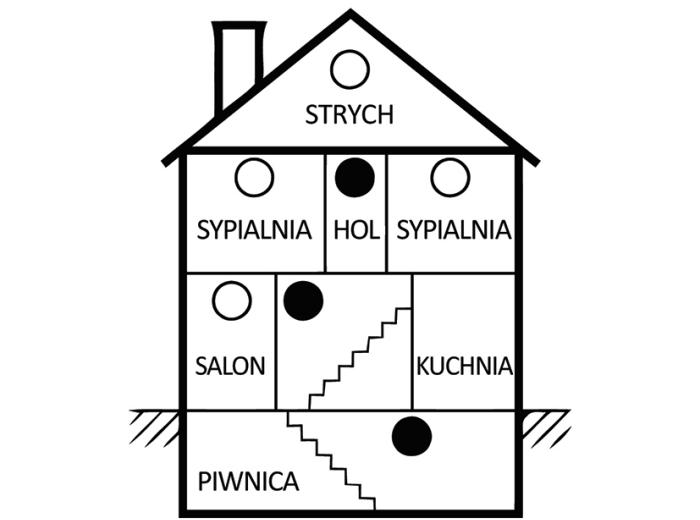 Pierwsza czujka, jako podstawowa ochrona, powinna być zamontowana na korytarzu w bezpośrednim sąsiedztwie sypialni. Sypialnie znajdują się zwykle najdalej od wyjścia, dlatego należy starać się chronić drogę ewakuacyjną.
Jeżeli w mieszkaniu lub domu jest kilka sypialni, w celu zapewnienia optymalnej ochrony, dodatkowe czujki powinny być zainstalowane we wszystkich sypialniach znajdujących się na każdej kondygnacji budynku.
W mieszkaniu i domu wielokondygnacyjnym należy umieścić co najmniej jedną czujkę na każdym piętrze. Czujki powinny monitorować schody, ponieważ działają one jak "naturalny kominy" dla dymu i ciepła.
Czujkę dymu powinniśmy, także zamontowana w każdym pomieszczeniu, w którym działają urządzenia elektryczne (tj. przenośne grzejniki, koce elektryczne i nawilżacze powietrza) lub w którym palone są papierosy.
Zalecane miejsca montażu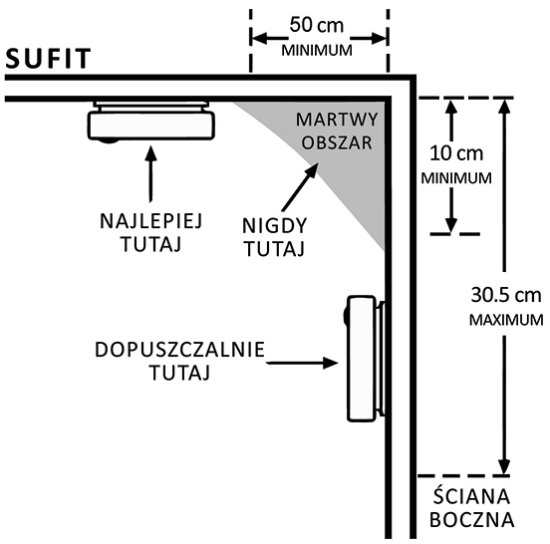 Dym wraz z ciepłym powietrzem oraz innymi produktami spalania dąży najkrótszą drogą do sufitu, rozprzestrzenia się poziomo po jego powierzchni i następnie zaczyna opadać. Dlatego najlepszym miejscem montażu czujki jest środek sufitu, ponieważ z tego punktu jest najbliżej do każdego miejsca w pomieszczeniu.
Montując czujkę na suficie, należy umieścić ją minimum 50 cm od ściany bocznej. Jeżeli nie jest możliwe umieszczenie czujki na suficie, to dopuszcza się instalację urządzenia na ścianie.
W przypadku montowania czujki na ścianie, należy zamontować ją na wewnętrznej ścianie. Minimalna odległość górnej krawędzi czujki od sufitu powinna wynosić 10 cm. Maksymalna odległość dolnej krawędzi urządzenia nie może być większa niż 30 cm.
UWAGA! Jeżeli pomieszczenie nie jest odpowiednio zaizolowane dym może nie dotrzeć do sufitu dlatego, w takim przypadku, czujkę należy zamontować na ścianie.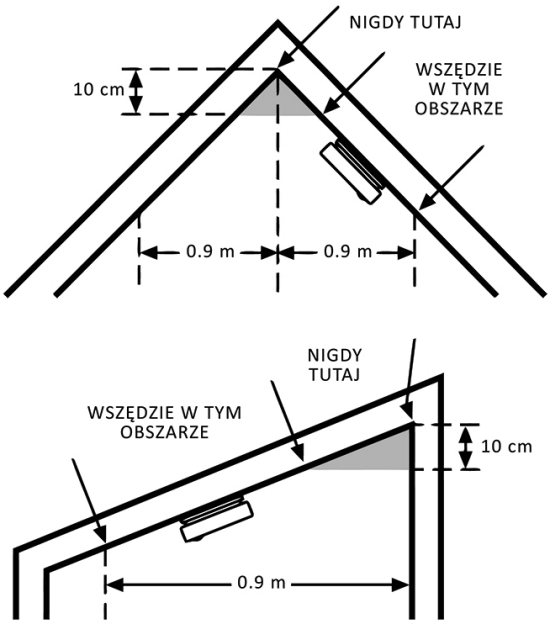 Na dwuspadowych i jednospadowych sufitach czujki należy montować w obszarze do 0.9 m od najwyższego punktu (mierząc poziomo), przy zachowaniu minimalnej 10 cm odległości od górnej krawędzi czujki do sufitu.
W pomieszczeniach o nachyleniu sufitu większym niż 0.3 m na 2.4 m w poziomie, czujki dymu powinny być umieszczone po wysokiej stronie pomieszczenia. Szereg czujek powinien zostać rozmieszczony w obszarze do 0.9 m od szczytu sufitu, mierząc poziomo.
Jeżeli jeden z boków pokoju lub korytarza jest dłuższym niż 9 m należy zamontować czujki dymu na obydwu końcach pokoju / korytarza.
Jeżeli pokój jest większy niż 47 m2 zalecany jest montaż co najmniej dwóch czujek dymu.
O czym powinniśmy wiedzieć?
Czujki dymu nie włączą sygnalizacji alarmowej, jeśli dym nie dotrze do sensora czujki.
Czujki dymu mogą nie wykryć pożarów wybuchających w kominach, ścianach, na dachach, po drugiej stronie zamkniętych drzwi lub na innym piętrze.
Czujki dymu zostały zaprojektowane w taki sposób, aby zminimalizować występowanie przypadkowych, fałszywych alarmów. Dym papierosowy zwykle nie uruchamia alarmu, chyba że zostanie wydmuchany bezpośrednio na czujkę.
Cząsteczki spalania powstające podczas gotowania mogą uruchomić alarm, jeżeli czujnik znajduje się zbyt blisko obszaru gotowania.
Czujka przeciwpożarowa może nie obudzić osoby mającej mocny sen lub osoby będącej pod wpływem używek. W celu zapewnienia maksymalnej ochrony czujki powinny być zainstalowane we wszystkich sypialniach znajdujących się na każdej kondygnacji budynku.
Alkohol lub narkotyki mogą osłabić zdolność osoby do usłyszenia sygnału alarmu.
Czujniki dymu mogą ratować życie poprzez wczesne ostrzeganie o pożarze, nie mogą jednak zastąpić polisy ubezpieczeniowej. Właściciele domów i lokatorzy powinni wykupić odpowiednie ubezpieczenie, aby chronić swoje życie i majątek.
Gdzie nie należy umieszczać czujki
W garażu (nie dotyczy czujek termicznych). Uruchomienie pojazdu powoduje powstawanie produktów spalania. Jeżeli w garażu ma być zamontowana czujka pożarowa, powinna to być czujka termiczna (ciepła).
W pomieszczeniach, w których temperatura może spaść poniżej 0°C lub wzrosnąć powyżej 40°C np. na niewykończonych strychach.
W brudnych lub zakurzonych miejscach, ponieważ kurz gromadzący się w komorze pomiarowej może mieć wpływ pracę czujki.
W obszarach występowania dużych populacji owadów. Niewielkie owady mogą dostać się do komory pomiarowej czujki i powodować fałszywe alarmy.
W pobliżu miejsc / urządzeń mogących zaburzać normalny przepływ powietrza np. bezpośrednio nad grzejnikami, w pobliżu drzwi, okien, wentylatorów wyciągowych, otworów wentylacyjnych itp.
W łazience oraz w odległości mniejszej, niż 1 metr od łazienki oraz w innych miejscach, w których wilgotność względna przekracza 93% (bez kondensacji). Wilgoć lub para może powodować fałszywe alarmy.
W odległości mniejszej niż 0.5 metra od ściany bocznej.
W odległości mniejszej, niż 1 metr od lamp fluorescencyjnych (świetlówek). Układy elektroniczne mogą zakłócać działanie czujki.
W kuchni (oraz w odległości mniejszej, niż 1 metr od kuchni). Produkty powstające np. w trakcie gotowania lub smażenia mogą powodować fałszywe alarmy.
Uwaga! Jeżeli wymagany jest montaż czujki w kuchni, powinna to być czujka dualna WFPCO, która ma dodatkową funkcję HUSHTM umożliwiającą wyciszenie przypadkowo uruchomionej sygnalizacji alarmowej.
Fałszywe alarmy
W przypadku aktywacji alarmu najpierw należy sprawdzić, czy nie doszło do wybuchu pożaru. W razie pożaru należy opuścić budynek i wezwać straż pożarną. Jeżeli nie doszło do wybuchu pożaru, powinniśmy sprawdzić, co mogło spowodować uruchomienie alarmu. Większość fałszywych alarmów jest wynikiem nieprawidłowej lokalizacji czujki. Czujka może być zamontowana np. za blisko źródła ciepła, dymu lub pary (kuchenki, kominka, łazienki).